CONTACT ZONE • SCHEDULE OF EVENTS • APRIL 6–21, 2018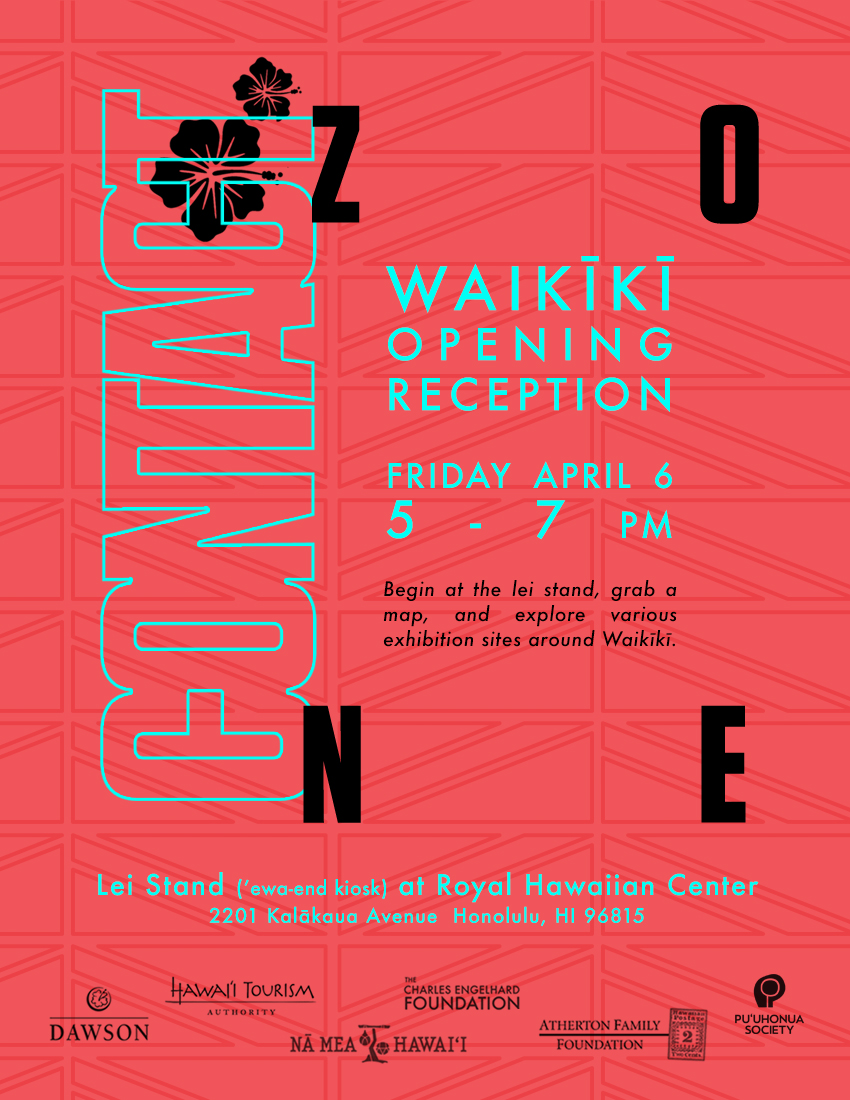 WaikĪkĪ Opening Reception, Friday April 6
5 - 7 PM
Lei Stand at Royal Hawaiian Center, 2201 Kalakaua Ave.

Begin at the CONTACT ZONE Lei Stand (ʻewa end kiosk) by Hālau Hula Ka Liko o Kapalai. Grab a map and explore the various Contact Zone sites around Waikīkī.
Mahalo to Lei Stand sponsors DAWSON and Royal Hawaiian Center.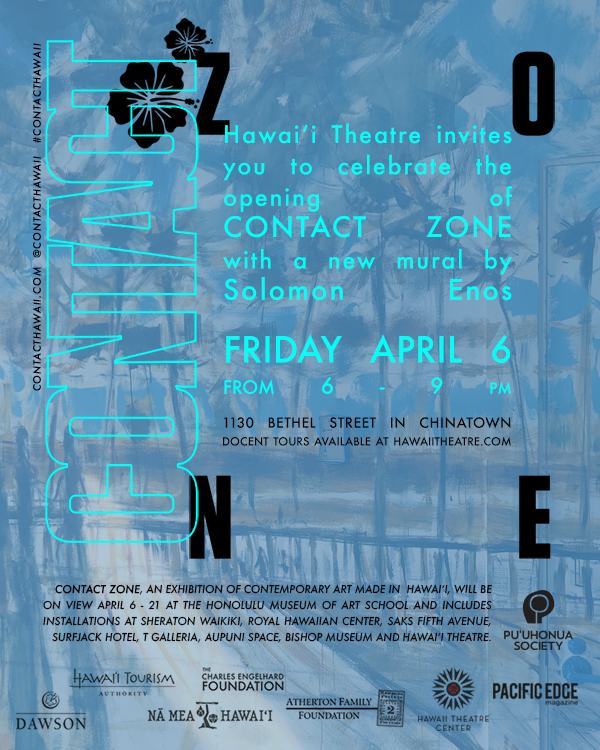 Hawaiʻi Theatre Opening Reception,
Friday April 6
6 - 9 PM
Inside Hawaiʻi Theatre, 1130 Bethel Street in Chinatown.

Join us for the opening of a new immersive mural by Solomon Enos, PA MA MUA, in conjunction with Contact Zone and First Fridays, on the second floor of the historic Hawaiʻi Theatre.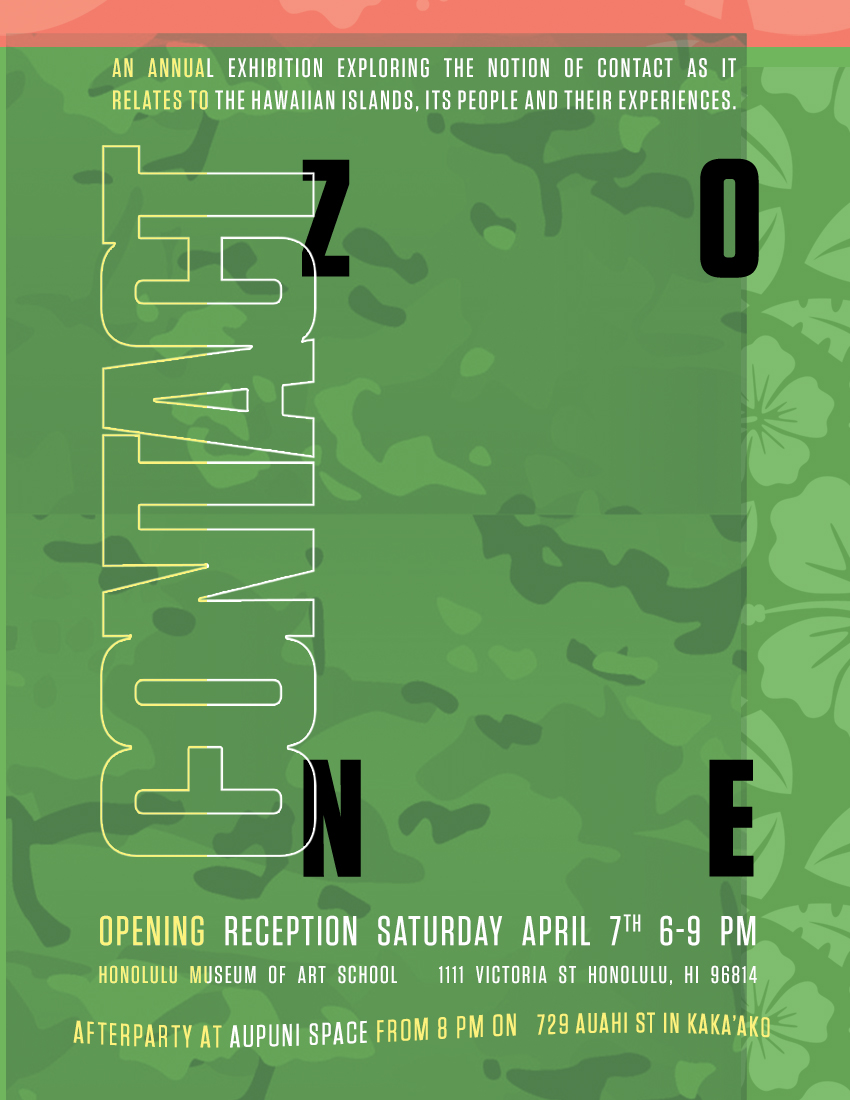 Main Exhibition Opening Reception,
Saturday April 7
6 - 9 PM
Join us for the opening reception of CONTACT ZONEʻs main exhibition site, Honolulu Museum of Art School, located at 1111 Victoria Street, Honolulu, HI 96814.
An afterparty will coincide at our satellite exhibition site, Aupuni Space, beginning at 8 pm, located at 729 Auahi Street in Kakaʻako.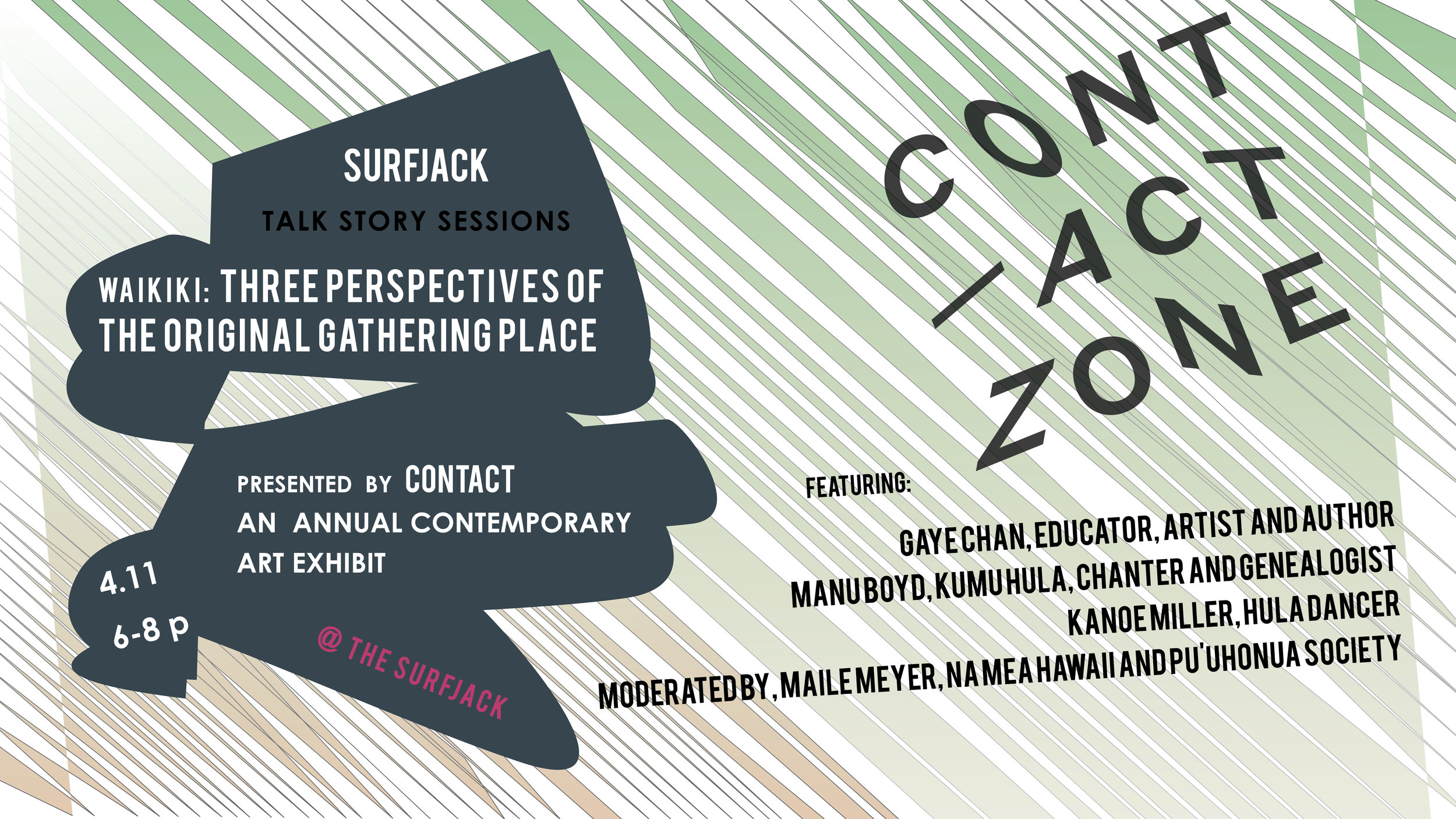 SURFJACK TALK STORY SESSIONS: WAIKĪKĪ, WEDNESDAY APRIL 11
6 - 8 PM
Join us at the Surfjack Hotel for a special Surfjack Talk Story Sessions: Waikīkī, Three Perspectives of the Original Gathering Place moderated by Maile Meyer of Puʻuhonua Society and Nā Mea Hawaiʻi. Hear different perspectives on Waikīkī with artist, activist and educator Gaye Chan in conversation with Manu Boyd, a kumu hula, chanter and genealogist; and Kanoe Miller, hula dancer.
For more information, visit the Surfjack event website. The Surfjack is located at 412 Lewers Street, Honolulu, HI 96815.
Media Partner: Flux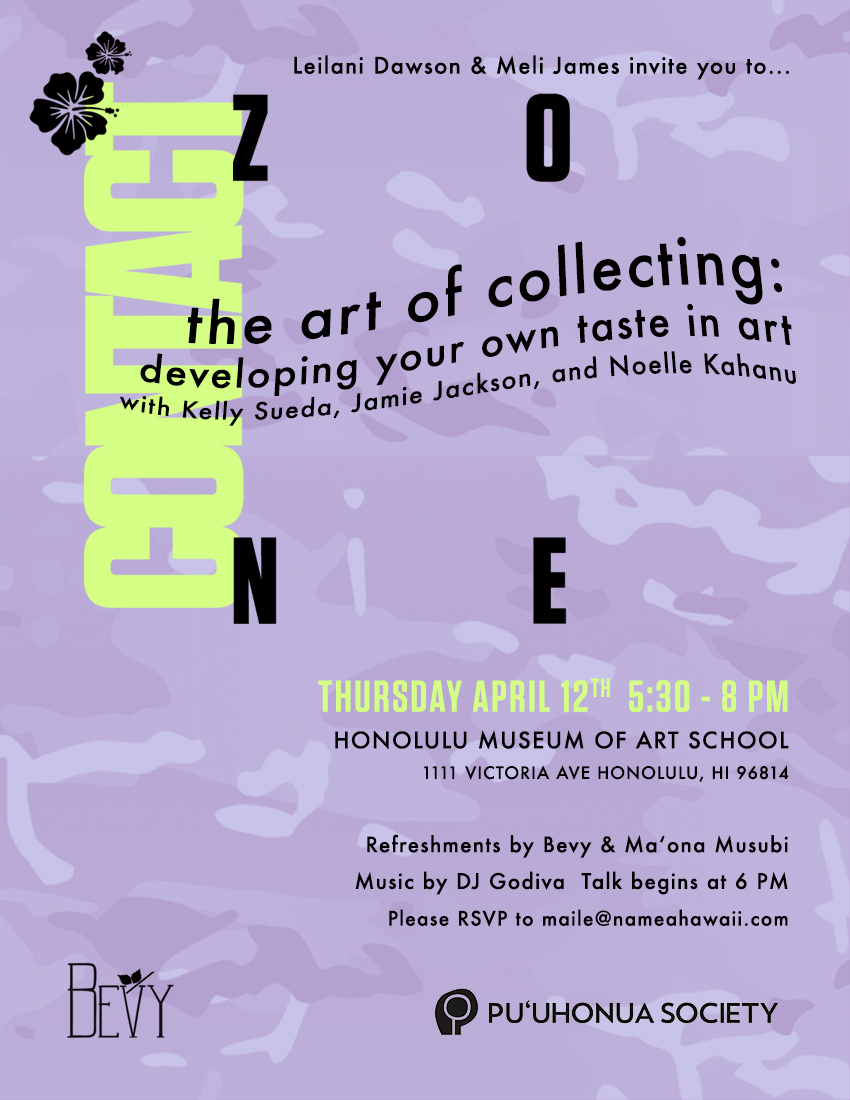 The Art of Collecting,
Thursday April 12
5:30 - 8 PM
Leilani Dawson and Meli James invite you to The Art of Collecting: Developing Your Taste in Art, a talk with Kelly Sueda, Jamie Jackson, and Noelle Kahanu.
Located at the Honolulu Museum of Art School Gallery, this event will also feature refreshments by Bevy and Maʻona Musubi, as well as music by DJ Godiva. To attend, please RSVP to maile@nameahawaii.com.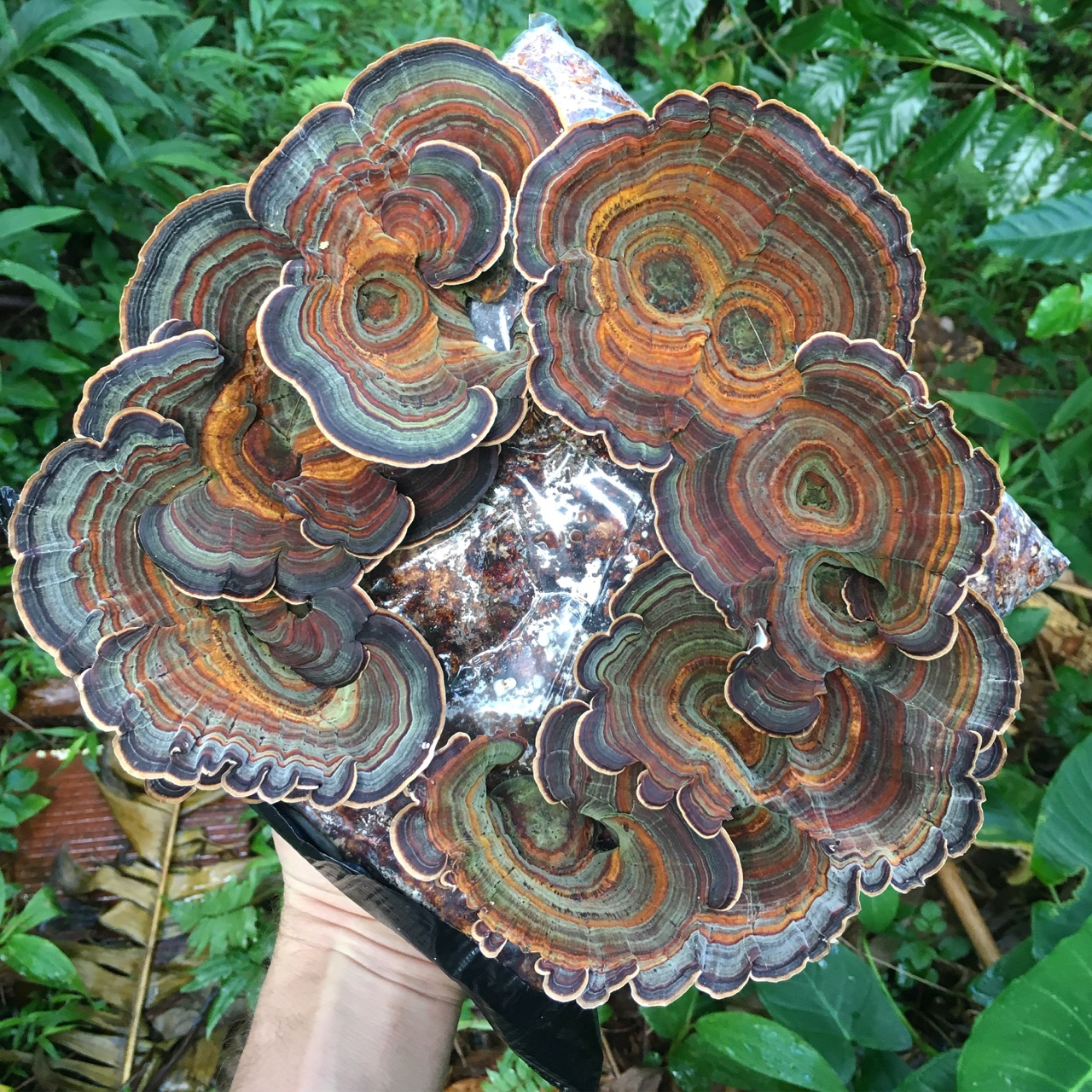 MUSHROOMS AS MEDICINE: CHRIS RITSON IN CONVERSATION WITH ISABELLA HUGHES,
THURSDAY APRIL 12
5:30 - 6:30 PM
Co-presented by CONTACT and HBF, Chris Ritson, who was raised on Oʻahu and continues to live and work on Tantalus, will discuss his practice in conversation with Isabella Ellaheh Hughes, which is informed by society's relationship to nature, which ranges from video and installation to living, generative sculpture.
An alumni artist of Honolulu Biennial 2017 with his Mushroom Paintings, Ritson is exhibiting a continuation of his living Mushroom Paintings in Contact Zone.
This event is FREE and open to the public, but space is limited to 25. Please RSVP to vip@honolulubiennial.org to reserve your seat.
Located at Luxury Row, 2124 Kalakaua Avenue. Free parking available at Luxury Row valet on Kalaimoku.
CONTACT ZONE AT THE SURFJACK: REIMAGINING WAIKĪKĪ,
April 17-18
6 - 10 PM
Experience a free pop-up interactive contemporary art project in five penthouse suites at the Surfjack Hotel & Swim Club. Like nothing that has yet been done in a hotel in Hawaiʻi, over 18 artists will transform the penthouse suites and various spaces throughout the hotel into immersive funhouses and spaces of culture and color. Exploring important community issues in playful ways, Reimagining Waikīkī situates itself at the meeting ground between meaningful messages and spectacular experiences.
Music by Carlos Niño (LA)
Works by Alina Kawai, Analog Sunshine Recorders, Ara & AJ Feducia, Casea Collins-Wright, Lala Openi, Local Boys, Nikole Nelson of Blkcoral, Mark Cunningham, Reise Kochi, Roger & Leimomi Bong, Sean Connelly, and more.
For more information, visit the Surfjack event website. The Surfjack is located at 412 Lewers Street, Honolulu, HI 96815.
Media Partner: Flux